Short Order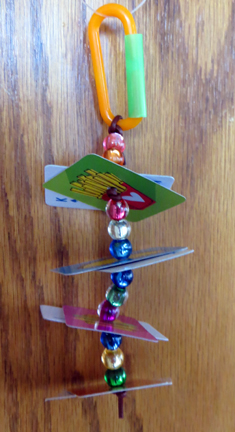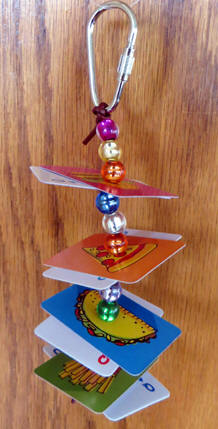 You've asked for more toys for the Lil Beaks in your house ... so we present you with Short Order! This adorable toy has NO METAL. The Short Order is strung on rolled leather lacing, hung from a ParroLink that with a straw covering the opening. There are brightly colored, small (approx 8mm) bead in beads with mini food cards (approx 1.75"x 1.25"). The leather is knotted after the cards to avoid snip and drop. Save the beads and use them for your next project, they are a nice, sturdy bead that can be reused (wash in soapy water, rinse and dry). Perfect toy for the smaller beaks in your house!

Note: We've had a customer state they prefer the quick links ... so we're offering that option.
Item #: 32071

Size: 1 Size (5" L x 1.75")

Price: $3.50

Item #: 32071Q

Size: 1 Size (5" L x 1.75")

Price: $3.75
Note: Each toy is individually handmade in the USA, colors, styles, beads and charms may vary from photograph.
As with all toys, please monitor your pets and make sure they don't actually consume non-edibles!