Cup Runneth Over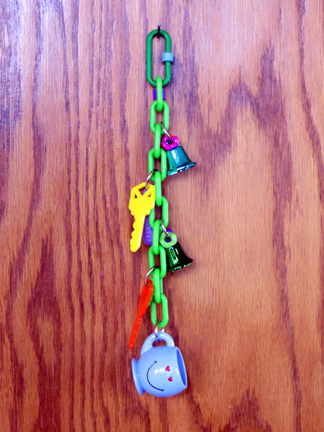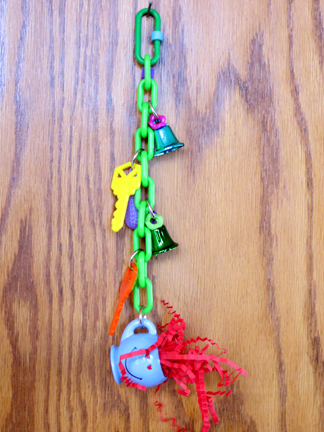 A fun foraging toy built on #4 plastic chain and topped with a parrolink. There are a couple of colorful, aluminum 22mm Liberty Bells with a couple petite ruffled beadsfor jingling good fun, plastic keys, peanut pendant and other dangling goodies. We shoved some shredded crinkle paper into the cup to get your started but you can put your parrot's favorite into the cup and use the paper as a filler! Great for the smaller to mid sized beaks in your family.
A sample of shredded crinkle paper comes with your Cup Runneth Over parrot toy!
Item #: 32018
Size: 1 Size (9.75" L x 1.5" W)
Price: $5.75
Note: As with all bells, if your FID tends to be mechanical, please remove the clapper before giving to your avian family!
Each toy is individually handmade in the USA, colors, styles, beads and charms may vary from photograph.
As with all toys, please monitor your pets and make sure they don't actually consume non-edibles!