Hidden Knots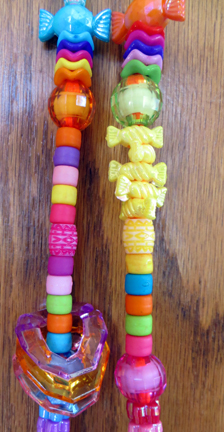 Our parrots absolutely adore beaded toys ... so we went shopping and brought in a bunch of new beads. This toy is strung on a neon shoelace (simple loop on top so you can use your own quick links and keeps the cost down), with a fun, translucent fish on top as a anchor, then on each "leg" there is a variety of five beads, then a knot. The key is there is a bead over every knot so it makes it much more difficult for your parrot to snip and drop the beads! These are all high quality, heavy jewelry type beads so they are long lasting and not as easy to pop. Simply recycle those with more life and restring! For added beak teasing fun, we have a few "wonky" rings on one leg which move over the rest of the beads. If your parrot loves beads, you should try this one!
We've tried to show you some close ups so you can see more detail ... as well as photos of some of the individual beads. These are handmade in the USA, colors and beads may differ from photograph.
Item #: 32004
Hidden Knots

Size: 1 Size (14" L)

Price: $7.75

Item #: 12210
Neon Laces

Size: 1 Size (42")

Price: $1.00/2
As with all toys, please monitor your pets and make sure they don't actually consume non-edibles!