Woodpile
(now in XL size too!)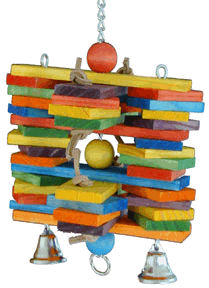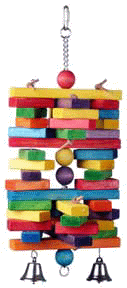 Perfect name for this toy that is full of colorful, soft pine slats in various directions and multiple layers. A nickel plated shaped quick link is attached to the nickel plated chain which runs the length of the toys, with the sections being separated by a colorful, wooden ball. Two sections run in a different direction and have vegetable tanned leather lacing tied on each side for another texture. Lots of motion, texture and fun in this longer lasting toy. The regular is sized for your smaller to mid-sized parrots and the XL is made for those larger, Busy Beaks in your home! Lots of beak chewing fun in this Woodpile from Super Bird Creations!
Item #: 78537

Size: Regular (11" L x 7" W)

Price: $24.25

Item #: 78811

Size: XL (19" L x 8" W)

Price: OUT OF STOCK
Note: As with all bells, if your FID tends to be mechanical, please remove the clapper before giving to your avian family!