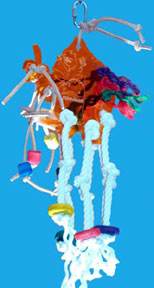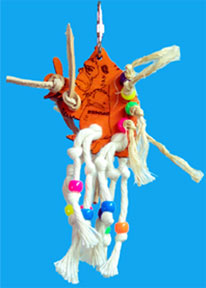 What a great shape, a gorilla and his banana! These are toys especially for the smaller to mid-sized FIDs in your house! In the small size, you can choose between wood or acrylic base; the extra small comes in wood only. Any one that you choose will be welcomed by your birds, there's 100% cotton rope, vegetable tanned leather strips and colorful sisal for added beak teasing pleasures!

As with all toys that have rope, sisal, fabric and curly laces, PLEASE be sure to
check the toy daily for frayed edges and keep it (and your parrot's nails) well trimmed.

Item #: 67162

Size: Small Acrylic (14" L x 6" W)

Price: $14.75
Now: $11.80

Item #: 67164 Gorilla

Size: XS Wood (6" L x 2" W)

Price: $5.50
Now: $4.40