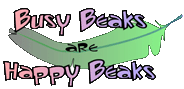 Marty Feldman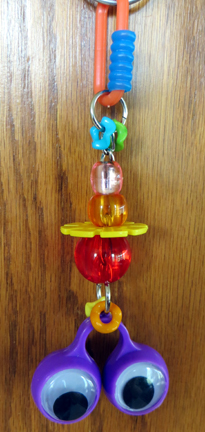 Occasionally, we have difficulty naming new toys ... so our friend, Kathy, took one look at this and said Marty Feldman! For those parrot loving youngsters who are not familiar with him, do a google search. It made us laugh so hopefully it makes you laugh too! The highlight of the toy are the googly eyes on the bottom ... they move and offer added interest for your Busy Beaks. Strung on parrot safe nickel plated welded chain and "O" rings, there are different size marbella type beads, an iridescent chunky barrel beads, a flower wheel, and a few petite ruffled beads for added movement, texture and beak teasing interest. A parrolink on top for easy hanging. There's a simple parrolink on top that is covered ... which you can use for easy hanging. A fun toy for the mid-sized beaks in your house!
Item #: 32090
Size: 1 Size (6.5" x 2")
Price: $5.25
Note: Each toy is individually handmade in the USA, colors, styles, beads and charms may vary from photograph.
As with all toys, please monitor your pets and make sure they don't actually consume non-edibles!