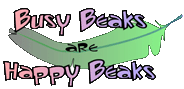 Flip Flop Fun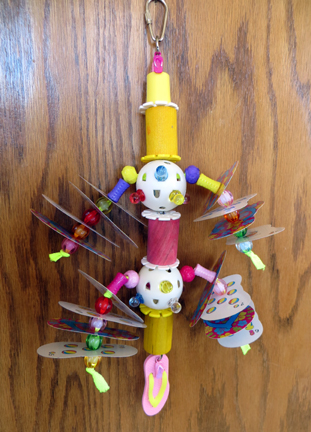 Flip Flop Fun is built on nickel plated welded chain and is full of beak teasing pleasure. There are a couple flip flop charms on the "O" ring on top (includes a nickel plated pear shaped quick link for easy hanging), a fun plastic bead top top. There are three colorful wooden tubes (sort of like a large spool size ... 1-1/2" L x 1" Diameter) which are separated by golf ball sized whiffle balls which have "arms" full of flip flop cards and beads as well as lot of pacifier beads scattered around the ball for added interest. Each section is separated by Flower Wheels (5 total) with a fun flip flop on the bottom that is adorned with flip flop charms. This is a fun toy, filled with different textures, movement and shredables. Perfect for the mid-sized beaks in your life!
Item #: 32073
Size: 1 Size (14.5" L x 7.5")
Price: $12.75
Note: Each toy is individually handmade in the USA, colors, styles, beads and charms may vary from photograph.
As with all toys, please monitor your pets and make sure they don't actually consume non-edibles!