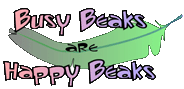 Puzzle Cascade
(cotton or paper rope)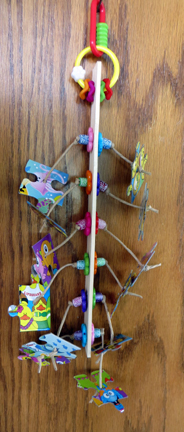 The center of the Puzzle Cascade is a thin slice of wood ... with 6 legs. There are flower frame and fancy tube beads on both sides with either colorful cotton or paper rope "legs" with double sided puzzle pieces as "feet". There's a circular ring on top that is filled with frosted ruffled beads and topped off with a parrolink for easy hanging. There is no metal on this toy. Lots of chewing for the small to mid sized birds in your house ... like Conures, Caiques, TAG, CAG, Eclectus, Goffin's, Amazon and like size birds.
Item #: 32058
Size: One Size (approx 11" Long x 4" Wide)
Price: $6.25
Note: Each toy is individually handmade in the USA, colors, styles, beads and charms may vary from photograph.
As with all toys, please monitor your pets and make sure they don't actually consume non-edibles!