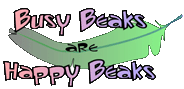 Rainbow Swirl
(built on Stainless Steel)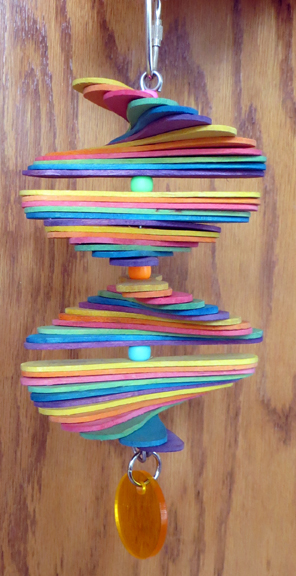 This toy was actually designed for our Goffin's cockatoo, Grommet. He doesn't like huge toys and beads are definitely one of his all time favorite things in life ... we layered a rainbow of drilled ice cream spoons followed by a frosted bead, then layered again. Once the four groups are on the stainless steel rod, we finished it off with a fun, acrylic charm on the bottom and a pear shaped quick link for easy hanging. The toy ships flat ... just swirl the sticks to make this cool shape, add to cage and watch the fun. Great for the smaller to mid sized beaks in your house!
Item #: 32045
Size: One Size (approx 8.5" Long x 3.75" Wide)
Price: $8.25
Note: Each toy is individually handmade in the USA, colors, styles, beads and charms may vary from photograph.
As with all toys, please monitor your pets and make sure they don't actually consume non-edibles!