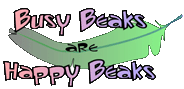 Bad Hair Day

Does your parrot love to forage and chew on shredded crinkle paper? Then you should try the Bad Hair Day toy which has a baseball size whiffle-type ball in the center, filled to overflowing with crinkle paper! All metal on this toy is parrot safe, nickel plated "O" rings, chain and pear shape quick link. There is a 16mm acrylic bead on the top, followed by a flower wheel, then the "Bad Hair Day" ball, another flower wheel, a nut & bolt with another 16mm acrylic bead on the bottom, with a few petite ruffled beads on the "O" rings and a fun acrylic shape on the bottom for beak pleasing, good time fun for most mid sized beaks in your family.

Note: Pictured (above right) is an empty Bad Hair Day. We thought we should show you one "naked" since you can't see anything under all that crazy crinkled hair.
Item #: 32032
Size: One Size (approx 11.5" Long x 3.5" Wide)
Price: $10.75
Note: Each toy is individually handmade in the USA, colors, styles, beads and charms may vary from photograph.
As with all toys, please monitor your pets and make sure they don't actually consume non-edibles!