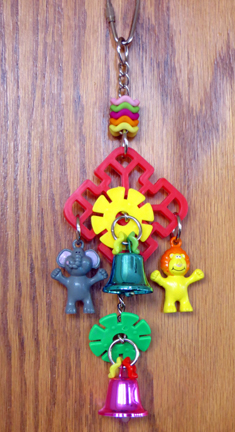 Liberty Guardians is strung on nickel plated welded chain and topped with a nickel plated pear shape quick link for easy hanging. The chain has several ruffled jr beads for added movement and texture. The center is a doily disk which has a couple of small rubber guardians hanging on either side. The center is a nickel plated chain that pulls through the center ... it has a 25mm colorful aluminum bell on each side with a flower wheel as well as a couple petite ruffled beads for added interest.

NOTE: Now available in holiday themes ... Christmas and Halloween!!
Item #: 32025
Size: One Size (approx 8" Long x 2.5" Wide)
Price: $7.75
Note: As with all bells, if your FID tends to be mechanical, please remove the clapper before giving to your avian family!
Each toy is individually handmade in the USA, colors, styles, beads and charms may vary from photograph.
As with all toys, please monitor your pets and make sure they don't actually consume non-edibles!