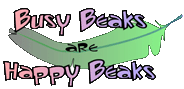 Foam Ruffles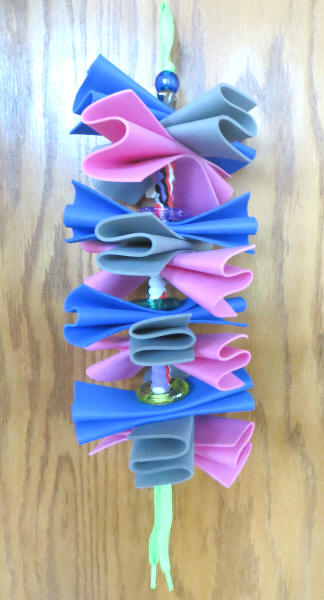 There is no metal on this toy! Foam Ruffles is strung on a neon shoelace (simple loop on top so you can use your own quick links and keeps the cost down), with multiple layers of 1 cm thick foam that is folded over to make ruffles. Each group of 3 colors is knotted and separated by a foam spacer with a fun, brightly colored hunky bead for added movement and texture. There are a couple of textured bead in beads on the top and bottom along with a spiral chunky bead on top. This is the perfect toys for your feathered family that loves to destroy soft, chewy toys and sized for mid sized parrots like Amazons, African Greys, conures, Smaller cockatoos and mini macaws. Our caique friends say this is a favorite for chewing and hanging for their "little monkeys".
These are individually handmade in the USA, colors and beads may differ from photograph.
Item #: 32005
Size: 1 Size (14" L x 5" W)
Price: $8.50
As with all toys, please monitor your pets and make sure they don't actually consume non-edibles!