Handy Foraging Block
(2 styles)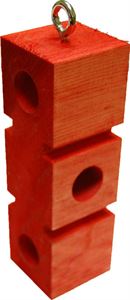 A great toy to encourage foraging. Zoo Max has made the Handy Foraging Block which is about 5.5" tall by 2" square, hung with a nickel plated eye screw and about 6" of nickel plated chain and topped with a quick link for easy hanging. There are grooves in two places on both sides and 3 large holes bore through the block. You are only limited by your imagination for all the things you can do with this toy. Fill the holes with shred, whole nuts wrapped in cupcakes papers or coffee filters, stuff with parrotraps ... so many options! Please share your ideas with us so we can share with others!! Available in Colored or Natural soft wood.

: Wrap some nuts with corn husks (tamale wrappers) and stick in the hole. Great fun most beaks (lemurs or monkeys too) in your life!
Item #: 67364C

Size: Colored (14 " x 2")

Price: $8.25

Item #: 67364N

Size: Natural (14 " x 2")

Price: $7.25