Rolled Balsa
(3 sizes)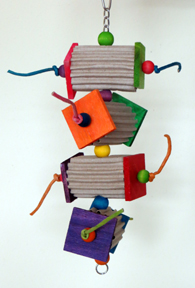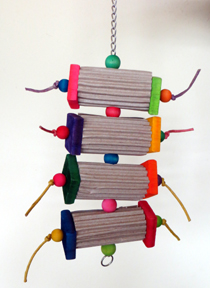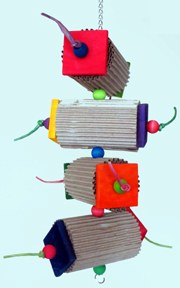 Our birds LOVE the corrugated wrap and when you make large rolls, they are very sturdy and take an aggressive beak to work their way through the toy. Rolled Balsa has 3", 4" and 6" rolled corrugated wrap centers that have been "capped" on each end with colorful balsa - a paper rope strung through the center, tying on marbella beads on the outside. Each size has four rolls, separated by marbella beads, all strung on durable and reusable, nickel plated welded chain with a quick link on top for each hanging. With three sizes available, there is sure to be one that is perfect for your feathered family!

Refills for the corrugated wrap can be found here!
Item #: 53085S

Size: Small(18" x 5")

Price: $25.50

Item #: 53085M

Size: Medium (19" x 7")

Price: $28.50

Item #: 53085L

Size: Large (20" x 9")

Price: $35.00
As with all toys, please monitor your pets and make sure they don't actually consume non-edibles!
If your FID tends to be mechanical, please remove the clapper before giving to your avian family!