Chunky Chew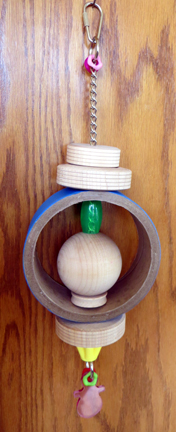 Chunky Chew lives up to its name! It's a toy built for the more aggressive chewing beaks in your life! Strung on nickel plated chain, there are a couple heavy duty wheels on top (with a hidden bead inside - put your own treat in there to encourage foraging), a heavy duty bead, large wooden ball (about softball size), more wood and beads on the bottom of the Macaw Jumbo Bagel, plus a couple ruffled beads and a fun acrylic shape on the bottom. Topped with a quick link on top for easy hanging, just hang and watch the fun!! Great toy for the larger, more destructive beaks in your life!

Note: Chunky Chew is available in natural wood or colored ... whichever your parrot prefers!
Item #: 32066
Size: One Size (approx 15" Long x 5" Wide x 2" depth)
Price: $17.75
Note: Each toy is individually handmade in the USA, colors, styles, beads and charms may vary from photograph.
As with all toys, please monitor your pets and make sure they don't actually consume non-edibles!