Tennis Ball with Strap (2)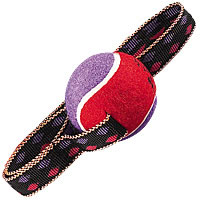 The classic tennis ball just got updated! Durable nylon straps make these balls more fun to tug. Imagine a rollicking game of tug and war without the mess of dog drool. You'll never go back to ordinary tennis balls. Two-tone, 2-1/2" tennis balls feature 26" long woven nylon straps in assorted designs. Our dogs love for us to throw this ball and with the strap, it makes it so much easier on your arm (or at least for MY arm). YOU GET TWO IN ONE PACKAGE FOR ONE LOW PRICE!

We were able to get the same toy with a 5" tennis ball on the end for those BIG dogs in your family!
Item #: tp45021

Size: 1 Size (2-1/2")

Price: $4.25

Item #: tp45025

Size: 1 Size (5)

Price: $12.25