Feathered Phonics, Volume 5
International Edition Languages from Around the World!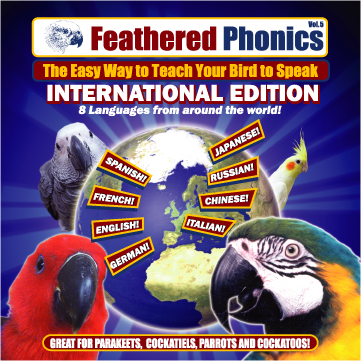 Eight languages to teach your pet! Including common words in these languages: English, Spanish, German, Italian, French, Russian, Chinese and Japanese! Over 96 tracks on this one CD!
Feathered Phonics 5
Item #: 61005
Price: $12.95
Now: $6.47
PLEASE REMEMBER COPYRIGHT© LAW DICTATES THAT WE CAN NOT TAKE BACK OPENED CDs, ONCE YOU HAVE OPENED THEM, THEY BELONG TO YOU! WE WILL REPLACE DEFECTIVE CDS WITH SAME MERCHANDISE ONLY (AND IT WILL BE OPENED, TESTED AND RETURNED TO YOU)!