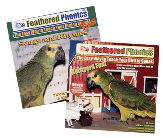 Feathered Phonics has broken through the barrier of ordinary bird training products! Now you can easily train your parakeet, cockatiel or parrot to speak with Feathered Phonics specially prepared compact disc!
Talented computer wizards have discovered a NEW way to teach your bird to speak! It's our closely guarded secret and we're not telling how we record it! But you'll still reap the rewards of our efforts!
PLEASE REMEMBER COPYRIGHT© LAW DICTATES THAT WE CAN NOT TAKE BACK OPENED CDs, ONCE YOU HAVE OPENED THEM, THEY BELONG TO YOU! WE WILL REPLACE DEFECTIVE CDS WITH SAME MERCHANDISE ONLY (AND IT WILL BE OPENED, TESTED AND RETURNED TO YOU)!
---
Click on the photos for detailed descriptions, larger pictures and ordering information!

---
Vol. 5, International Edition, Languages from around the World

Vol. 8, Espanola

Price: $12.95
Now: $6.47

Price: $12.95
Now: $6.47
---