Mr. C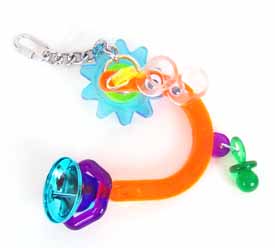 This is a horseshoe with an attitude! Turn the horseshoe on it's side so it becomes a "C" and then add acrylic tubes for eyes, a bell on the bottom, a free moving acrylics shape on the "C" portion with a moveable gear on the back and a dangling pacifier makes Mr. C a great addition to your FIDs house! Buzz, CAG, pictured above, just LOVES acrylic toys, and is investigating the bell while Mom (Ingrid) keeps a watchful eye on this very clever bird!

Item #: 85173
Size: 1 Size (10" L x 4-1/2" W x 2-1/2" D)
Price: $14.25
Note: As with all bells, if your FID tends to be mechanical, please remove the clapper before giving to your avian family!