Kooky Kaleidoballs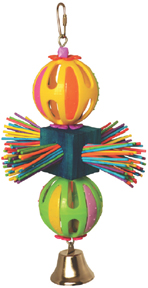 A stick toy that even your bigger beaks can enjoy! Kooky Kaleidoballs has a couple large (approx 2-1/2" diameter), heavy duty balls with a bell inside, the center body is a colorful wooden block about 1.75" square, filled with fun peeling lollipop type sticks. This is sure to become a favorite with your stick picking, chewing, loving birds! A pear shaped quick link on top for easy hanging and a bell on the bottom for a ringing good time. A swinging, colorful fun addition for your mid to larger sized beaks! Our parrots love these stick toys ... this is a new one to share with your feathered family! Love the toy but need a smaller version? Check out Holy Gumballs!
If your bird loves stick toys, click here to see more ...
Item #: 78985

Size: One Size (11" x 6.5")

Price: $11.75
Note: As with all bells, if your FID tends to be mechanical, please remove the clapper before giving to your avian family!