Bungee Bounce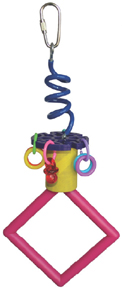 This Bungee Bounce will quickly become a favorite for the small "monkeys" in your house like Caiques, Keets, Tiels & Parrotlets. The "bungee" part can also be used for some millet to make the most of your (cage) real estate. There's a bird bite for added beak teasing fun! A pear shaped quick link on top for easy hanging. A swinging, colorful fun addition for your smaller to mid sized beaks!
Item #: 78978

Size: One Size (10" x 4")

Price: $7.25
Note: Each toy is individually handmade in the USA, colors, styles, beads and charms may vary from photograph.
As with all toys, please monitor your pets and make sure they don't actually consume non-edibles!