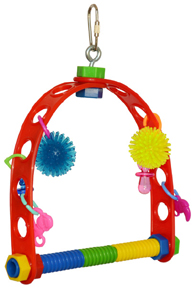 Looking to add a bit of color and motion to your feathered families cage? This is the swing for you. The plastic frame has lots of holes, so use your imagination to dress this Swing A Ma Jig up! It comes with hanging porcupine balls, plastic pendant charms and pacifiers. There's a pear shaped quick link on top for easy hanging. A fun addition for your smaller to mid sized beaks!
NOTE: This toy is discontinued by the manufacturer so if it's one of your parrot's favorites, please stock up. When they're gone ... they're gone!
Item #: 78976

Size: One Size (7.5" x 6")

Price: $12.75
Now: $11.47
Note: Each toy is individually handmade in the USA, colors, styles, beads and charms may vary from photograph.
As with all toys, please monitor your pets and make sure they don't actually consume non-edibles!