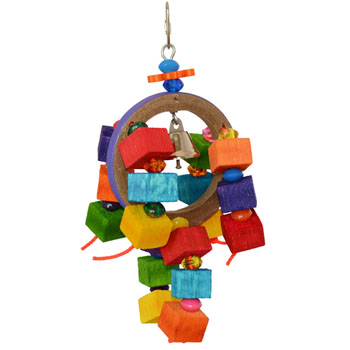 Balsa Block Bagel, munch, crunch, balsa and bagel, oh my! A cascade of vibrantly colored balsa blocks and bright beads dangle in six arms from the birdie bagel core. A liberty bell is in the middle for a ring-a-dinging good time! There's nickel plated quick link on top for easy hanging. A fun, chewable toy with lots of motion, color and chewing fun. Perfect for the mid-sized beaks in your life!
NOTE: This toy is discontinued by the manufacturer so if it's one of your parrot's favorites, please stock up. When they're gone ... they're gone!
Item #: 78975

Size: One Size (9.5" x 4" x 3.5")

Price: $19.00
Now: $17.10
As with all toys, please monitor your pets and make sure they don't actually consume non-edibles!
If your FID tends to be mechanical, please remove the clapper before giving to your avian family!