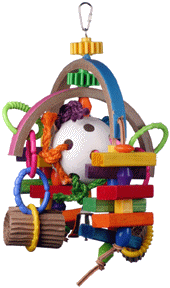 The center of this Lost in Space toy from Super Bird Creations is a large whiffle ball! That's just the start! The whiffle ball is filled with lots of colorful sisal knots and inside the ball there are wooden slices which make a nice rattle sound without being humanly offensively. There are half moon bagels orbiting the 4" diameter stuffed whiffle ball which are separated by large plastic gears and plastic beads. The bagel half moons have vegetable tanned leather strips filled with colorful wooden slats and plastics. Alternating with nubby plastic rings with have corrugated cardboard on the bottom. Lots and lots of textures and chewing interest in Lost in Space. There's a nickel plated quick link on top for easy hanging and large cowbell on the bottom for a ringing good time!
NOTE: This toy is discontinued by the manufacturer so if it's one of your parrot's favorites, please stock up. When they're gone ... they're gone!
Item #: 78940
Size: Med/Large (15" L x 12" W)
Price: $27.75
Now: $24.97
Note: As with all bells, if your FID tends to be mechanical, please remove the clapper before giving to your avian family!