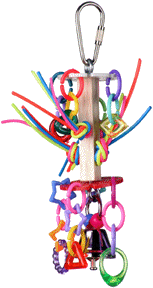 Balsa block center with colorful plastic Rings and Things hanging for lots of texture and motion. A quick link on top for easy hanging and a bell on the bottom for beak ringing run! Fun toy for the small beaks in your life!
NOTE: This toy is discontinued by the manufacturer so if it's one of your parrot's favorites, please stock up. When they're gone ... they're gone!
Item #: 78933
Size: Small (6" L x 2" W)
Price: $8.50
Now: $7.65
Note: As with all bells, if your FID tends to be mechanical, please remove the clapper before giving to your avian family!