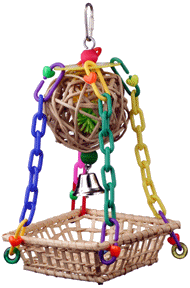 Now how cute is this? Definitely looks like a balloon to whisk they off and have fun! A munch ball stuffed with some goodies (like parropine balls), 4 plastic chains with parrolinks and pony beads holding the woven basket (which you can fill with your birdie's favorites to encourage foraging). The Up, Up and Away is topped with a nickel plated pear shaped quick link for easy hanging. There's lots of movement and beak pleasing fun with this toy which includes a bell for a ringing good time!
All handmade with natural materials so sizes may vary slightly.
For more foraging options ... click here!
Item #: 78890
Size: 1 Size (10" L x 5" W)
Price: $12.50
Now: $10.00
Note: As with all bells, if your FID tends to be mechanical, please remove the clapper before giving to your avian family!