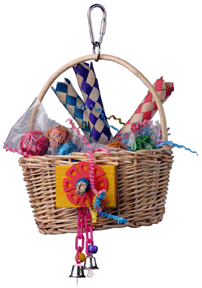 What a fun toy for your small to mid sized beaks ... a woven basket filled with shredded paper, parrotraps, with 6 mini munch balls (these come in a package bag, please remove the bag before giving to your bird) all topped with a nickel plated pear shaped quick link for easy hanging. There's even small plastic chain dangling from the front with a couple bells for added parrot pleasing fun!
All handmade with natural materials so sizes may vary slightly.
For more foraging options ... click here!
Item #: 78889
Size: 1 Size (9" L x 5.5" W)
Price: $11.00
Now: $9.35
Note: As with all bells, if your FID tends to be mechanical, please remove the clapper before giving to your avian family!