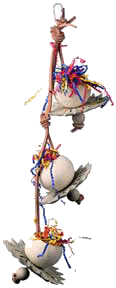 What fun ... a foraging toy for most every size beak in your house! Three strands of vegetable tanned leather strips hanging from a nickel plated quick link, each has a natural pod filled with shredded paper and a woven daisy underneath held with a natural wooden ball for even more chewing fun! You can add JUST fruit, JUST veggies, nuts, popped corn or other favorites to the pods to stimulate your parrot's foraging skills! Use your imagination with this toy ... your parrot will love!
For more foraging options ... click here!
Item #: 78871

Size: One Size (17" x 5")

Price: $8.50
Now: $7.22
NOTE: This toy is discontinued by the manufacturer so if it's one of your parrot's favorites, please stock up. When they're gone ... they're gone!