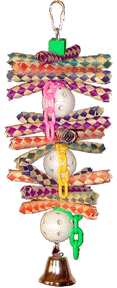 78731
A bunch of ParroTraps, whiffle-type fun balls, plastic chain and a bell. Loads of fun, lots of motion, great for shredding! Sized for most mid-sized birds like Amazons, African Greys, Eclectus, small cockatoos and small macaws with a nickel plated pear shaped quick link on top for for easy hanging and a bell on the bottom for a ringing good time!
Item #:78731
Size: One Size (5" x 13")
Price: $12.75
Now $10.84

Note: As with all bells, if your FID tends to be mechanical, please remove the clapper before giving to your avian family!