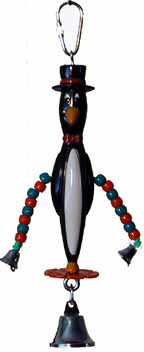 There are an assortment of styles with this adorable holiday penguin, some are "girls" and others are "boys" but ALL are made to bringing in some ringing fun into your FIDs life this holiday season! Sized for most small to medium sized parrots to enjoy!
NOTE: This toy is discontinued by the manufacturer so if it's one of your parrot's favorites, please stock up. When they're gone ... they're gone!
Item #: 78710
Size: 1 Size (3" x 9")
Price: $5.75
Now $4.60
Note: As with all bells, if your FID tends to be mechanical, please remove the clapper before giving to your avian family!