Enriching Your Parrot's Life
by Robin Shewokis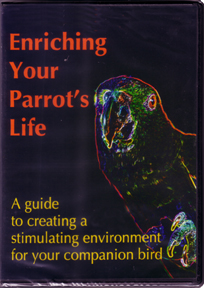 Robin Shewokis, the owner of the Leather Elves, began working with zoological institutions around the country, due to the need for enrichment solutions for all types of captive wildlife, especially parrots, Robin has consulted with zoos world-wide in order to improve animal welfare with innovative enrichment products and concepts. As a parrot expert, she shows you how to make your parrots life more rewarding.

Robin is the enrichment columnist for the International Association of Avian Trainers and Educators (IAATE) quarterly publication, The Flyer, as well as the co-host of the weekly podcast Wings-n-Things. In this engaging video, Robin provides a solid framework of ideas to give your bird an engaging, enriched and fulfilled life.

Item # 77829

Size: DVD

Price: $22.00

PLEASE REMEMBER COPYRIGHT© LAW DICTATES THAT WE CAN NOT TAKE BACK OPENED CDs/DVDs, ONCE YOU HAVE OPENED THEM, THEY BELONG TO YOU! WE WILL REPLACE DEFECTIVE CDs/DVDs WITH SAME MERCHANDISE ONLY (AND IT WILL BE OPENED, TESTED AND RETURNED TO YOU)!