Bird Tower
(3 sizes)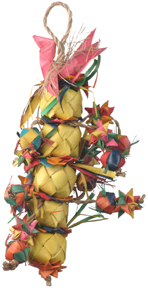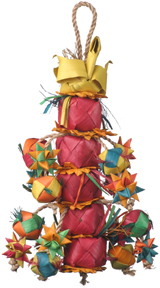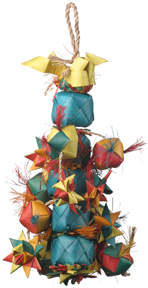 This is a fun, new addition to our Planet Pleasures line of natural, shredable toys! There are five (5) fiber filled woven section separated by more shredable goodness, with hanging fiber filled balls and palm leaf stars. Lots of texture in this 100% destroyable toy! With three sizes, there is one for most any sized beaks in your life!
Please remember that all Planet Pleasures toys are handmade, so it's normal for the sizes vary a bit.
Item #: 77279

Size: Small (9" x 4")

Price: $8.25

Item #: 77280

Size: Medium (11.5" L x 7" W)

Price: $11.00

Item #: 77281

Size: Large (16" x 7")

Price: $21.50

As with all toys that have rope, sisal, fabric and curly laces, PLEASE be sure to
check the toy daily for frayed edges and keep it (and your parrot's nails) well trimmed.