Bird Tire (with Star)
(3 sizes)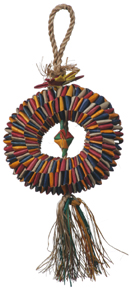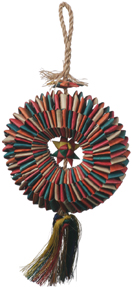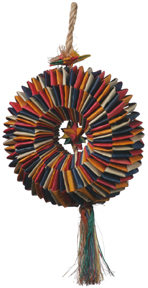 These tightly woven, interlocking, colorful paper type fiber is great for hiding goodies inside. There is a fun star hanging in the center and the entire "tire" is destroyable. There is a natural loop on top for easy hanging. I would say that the small (about 3.5" diameter) is perfect for 'keets through smaller conures (or greys who like smaller toys), the medium (about 5" diameter) is great for mid size birds like larger Conures, Eclectus, amazons and if they prefer larger toys, the next size is perfect at 6" diameter. Since this is a totally "natural" fiber toy ... if you're bird is truly an aggressive, Busy Beak ... this may not be a really long lasting toy ...although they'd have a really good time shredding it!
Please remember that all Planet Pleasures toys are handmade so it's normal for the sizes vary a bit.
Item #: 77272

Size: Small (8" L x 3.5")

Price: $6.00

Item #: 77273

Size: Medium (12" L x 5")

Price: SOLD OUT

Item #: 77274

Size: Large (11" L x 6")

Price: SOLD OUT

As with all toys that have rope, sisal, fabric and curly laces, PLEASE be sure to
check the toy daily for frayed edges and keep it (and your parrot's nails) well trimmed.