Climbing Net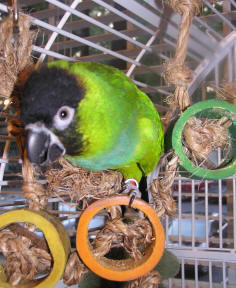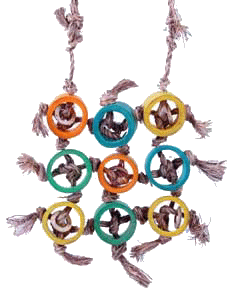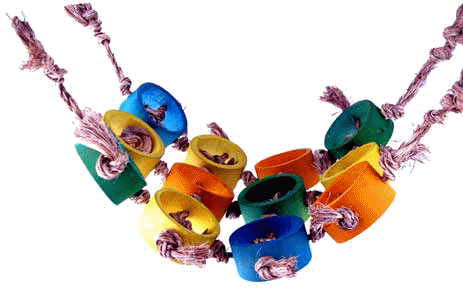 The Climbing Net from Planet Pleasures is made of colorful bamboo rings that are hung together and look a bit like a tic tac toe game (small size has 3 rows of 2-1/2" diameter bamboo rings while the large size has 4 rows of 3-3/4" diameter bamboo rings). The bamboo rings are strung together using natural sisal and coconut fiber with knots in the centers for even more beak pleasing fun! The small has two nickel plated quick links for easy hanging while the large size has four nickel plated quick links so you have options of hanging it like a bridge (pictured above) or it can be hung straight like a ladder. The bamboo is a sturdy wood so the small would be good for most smaller to mid-sized parrots while the large is geared towards bigger beaks like cockatoos and macaws.
Oliver (3 year old Nanday Conure) loves hanging out on his Planet Pleasures, Climbing Net!
Congratulations, Olly, you were an honorable mention winner in our Busy Beaks Photo Contest to help celebrate our 10th Anniversary (2010)!
Please remember that all Planet Pleasures toys are handmade so it's normal for the sizes vary a bit.
Item #:77098

Size: Small (18" L x 10" W x 1-1/2" D)

Price: $24.00

Item #:77099

Size: Med (14" L x 24" W x 1-3/4" D)

Price: $38.00