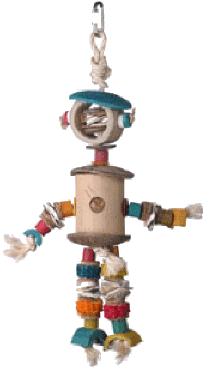 WOW ... these are great toys filled with all kinds of shredable goodies for your FIDs. Basically these are made the same just proportionately sized with the small have all the same components except there is a coconut hanger on top while the large has a nickel plated quick link. Both toys have colorful coconut and bamboo pieces, a bamboo "body" filled with coconut fiber (lots of different textures to enjoy), corn cob, veggie leather, oyster shells, cuttle bone, all strung on 100% natural, handmade sisal cord! The small is perfect for smaller FIDs like cockatiels, conures, parakeets, etc. and the large is perfect for mini macaws and smaller cockatoos, amazons, eclectus, greys and like size birds. These are wonderful additions to the Planet Pleasures line of natural toys!
Item #: 77079

Size: Small (11-1/2" L x 6" W x 2" D)

Price: $10.35
Now: $8.28

Discontinued by Mfr
Item #: 77080

Size: Large (16" L x 8" W x 3" D)

Price: SOLD OUT

As with all toys that have rope, sisal, fabric and curly laces, PLEASE be sure to
check the toy daily for frayed edges and keep it (and your parrot's nails) well trimmed.