Nature's Nest


(Discontinued by Manufacturer)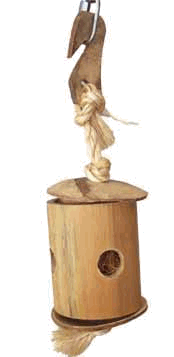 From the makers of Shredders ... Nature's Nest! This great new toy is perfect for those 'lil tweets in your life or even the larger FIDs. When the coconut filling is gone, hang it onto a skewer and fill with nuts for added avian delights!
Please remember that all Planet Pleasures toys are handmade so it's normal for the sizes vary a bit.
Note: Parrot Lovers ... use your imagination! If you have a bigger bird, check out some of the sale items and think of what you can do with the components. In other words, a small bird toy, like The Nature's Nest is a great foraging toy. We take off the hanger (use it on something else since it's coconut ... also fun foot toy for your bigger beaks), put whole almonds inside or leftover wooden parts with the coconut fiber, and use as a foot toy for our mega beaks! At less than $4.00, these are bargains that you can work with!! We have less than 20 left in stock ... they are discontinued by manufacturer so when they're gone, they're gone!
Item #:77072

Size: Mini

Price: $5.25
Now: $3.94