Colorful Square Pinatas
(Discontinued by Manufacturer)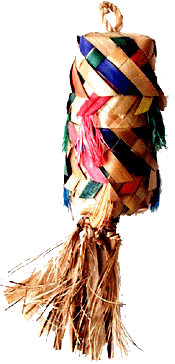 Made from the same palm leaf as Shredders another (colorful) twist in shredding delights for your avian family! Hand woven palm leaf outside with a variety of natural fibers all tied to a center, handmade sisal rope. This is like two toys in one since it is stuffed palm tree twists, shredders and Abaca fibers. Hang from your FID's cage or give a smaller size as a foot toy. Good, clean, destructive fun and now there's a mini so there's something for every BIRDIE!
If your parrot's love the Planet Pleasures colorful piñatas, be sure to check out the other styles!
Please remember that all Planet Pleasures toys are handmade so it's normal for the sizes vary a bit.
Item #: 77003

Size: Small (9")

SOLD OUT

Item #: 77004

Size: Medium (11")

SOLD OUT

Item #: 77005

Size: Large (15")

Price: $12.00
Now: $9.00

Item #: 77006

Size: XLarge (22")

SOLD OUT