Diamond Swing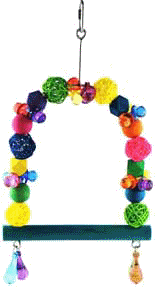 This is the perfect swing frame for mid sized parrots! IT'S REUSABLE, REFILLABLE AND STAINLESS STEEL! Lots of bang for the buck with this swing! The welded 3.5mm stainless steel swing filled with colorful munch balls, angled wooden beads and pacifiers. The bottom of the frame can be easily screwed on/off to refill with other things. There are two stainless steel "O" rings with Scooter Z's signature beads dangling for more beak pleasing fun. The swing is easily hung from the 2.5mm stainless steel quick link. The stainless steel portions can be used time and time again! Great for your mid sized parrots!
Item #: 71054
Size: Medium
Inside dimension: 3.5" w x 5.5" h
Overall Width: 7"
Overall Height: 14"
Perch Diameter: 3/4"
2.5mm SS quick link
Price: $20.50
Now: $15.37

Make the most of your (cage) real estate! Use your imagination to reduce, reuse, recycle your toys. It'll extend your bird toy budget and put a smile on your parrot's beak! The Diamond Swing has all removable stainless steel components. Try adding bird bites, bagels, wooden parts or even food (apple slices, carrots, fresh corn wheels, etc.) since it's stainless steel. Make sure that you remove fresh foods after a couple of hours to avoid bacteria growth and clean skewers/swings thoroughly.