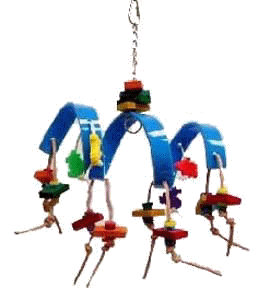 What a fun toy (and refillable) for those small beaks in your life like cockatiels, small conures, parakeets, parrotlets and like size birds. Colorful wooden pieces are on the nickel plated welded chain with a nickel plated pear shaped quick link centered on the top of the plastic spiral. There are vegetable tanned leather strips with an assortment of acrylic shapes and wooden pieces, there's some poly rope with plastic animals and lots of motion with many textures to put a smile on your parrot's beak!
Item #: 67291
Size: One Size (16" x 10" x 4.5")
Price: $20.00
Now: $16.00

As with all toys that have rope, sisal, fabric and curly laces, PLEASE be sure to
check the toy daily for frayed edges and keep it (and your parrot's nails) well trimmed.