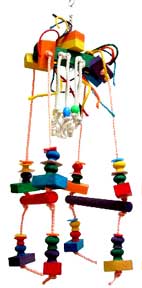 This double swing by Zoo Max is quickly becoming a favorite for many parrots. There is an assortment of wood, acrylic, hard plastic animals, leather, 100% cotton rope and colored sisal along with Poly rope so there is a variety of textures to be enjoyed! Lots of texture, lots of motion, lots of fun!
Item #: 67290
Size: M (30" x 10")
Price: $37.00
Now: $29.60

As with all toys that have rope, sisal, fabric and curly laces, PLEASE be sure to
check the toy daily for frayed edges and keep it (and your parrot's nails) well trimmed.