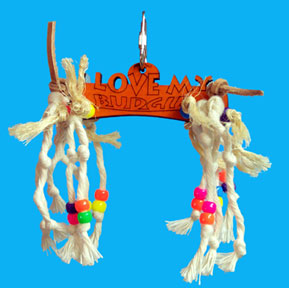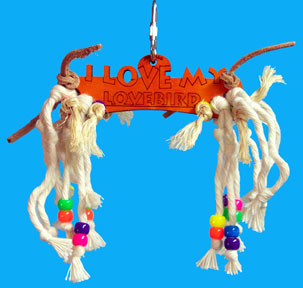 I Love My Budgie or Lovebird! The wooden base is size: 1-1/2" height by 4" wide and can be restrung and reused time and time again, just rebuild using 100% cotton rope, sisal rope, vegetable tanned leather strips and beads!

As with all toys that have rope, sisal, fabric and curly laces, PLEASE be sure to
check the toy daily for frayed edges and keep it (and your parrot's nails) well trimmed.

Item #: 67153

Size: Budgie (4" L x 4" W)

Price: $7.00
Now: $5.60

Item #: 67154

Size: Cockatiel (4" L x 4" W)

Price: $7.00
Now: $5.60

Item #: 67155

Size: Lovebird (4" L x 4" W)

Price: $7.00
Now: $5.60