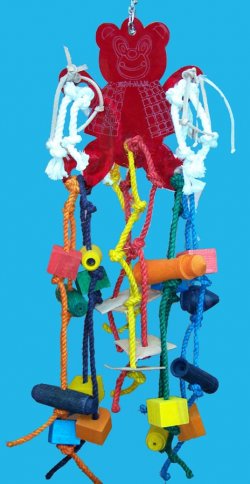 You get to choose size and wood or acrylic teddy bear! There is lots of texture and interest with this toy, filled with colorful wooden pieces, vegetable tanned leather squares, leather strips, natural unoiled sisal, and 100% cotton rope. Refillable too!

As with all toys that have rope, sisal, fabric and curly laces, PLEASE be sure to
check the toy daily for frayed edges and keep it (and your parrot's nails) well trimmed.

Item #: 67188

Size: L (wood)
(36" L x 11"W x 8D)

Price: $34.50
Now: $27.60

Item #: 67187

Size: L (acrylic)
(36" L x 11"W x 8D)

Price: $52.00
Now: $41.60