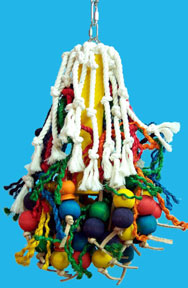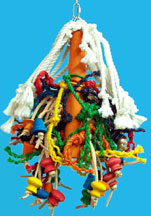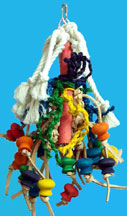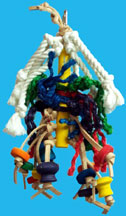 Your parrot will love this colorful toy that starts with a hardwood center, full of colorful wooden shapes, colorful sisal, vegetable tanned leather strips and 100% natural cotton rope. Don't let the photos fool you (be sure to check the measurements.) These are really good sized toys full of lots of beak chewing fun. This toy is excellent for parrots that are FEATHER PICKERS, and with FIVE sizes/lengths, no BIRDIE is left out!

As with all toys that have rope, sisal, fabric and curly laces, PLEASE be sure to
check the toy daily for frayed edges and keep it (and your parrot's nails) well trimmed.

Item #: 67106

Size: XL (18" x 10")

Price: $66.00
Now: $52.80

Item #: 67107

Size: L (18" x 10")

Price: $49.50
Now: $39.60

Item #: 67108

Size: Med (17" x 8")

Price: SOLD OUT

Item #: 67109

Size: S (12" x 8")

Price: SOLD OUT

Item #: 67110

Size: XS (10" x 4")

Price: $14.25
Now: $11.40