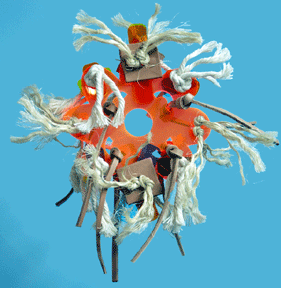 No dyes on this acrylic wheel, filled with natural sisal, 100% cotton and vegetable tanned leather pieces and strips. Make the most of your parrot's real estate (house), this is a great idea, you can add it to a perch to add interest, texture and chewing delight! What fun and you and refill it when it becomes worn! Great for birds who love to preen!

As with all toys that have rope, sisal, fabric and curly laces, PLEASE be sure to
check the toy daily for frayed edges and keep it (and your parrot's nails) well trimmed.

Item #: 67073

Size: Lg (8" Diameter w/ 1-1/2" hole)

Price: $25.00
Now: $20.00

Item #: 67074

Size: Med (6" Diameter w/ 1" hole)

Price: $17.25
Now: $13.80

Item #: 67075

Size: Sm (4" Diameter w/ 3/4" hole)

Price: $11.00
Now: $8.80