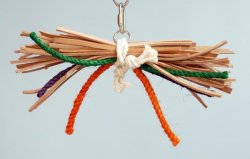 Vegetable tanned leather toy for parrots. Lots and lots of leather strips to play with, chew on and cuddle to. The middle is tied with cotton rope, tied with a stretching machine, which makes it almost impossible untie. They will love to try to pull the leather. Use this toy as a foot toy for your parrots (just removed quick links).

As with all toys that have rope, sisal, fabric and curly laces, PLEASE be sure to
check the toy daily for frayed edges and keep it (and your parrot's nails) well trimmed.

Item #: 67051

Size: L (6" x 10")

Price: $11.75
SOLD OUT

Item #: 67052

Size: S (4" x 6")

Price: $8.75
Now: $7.00