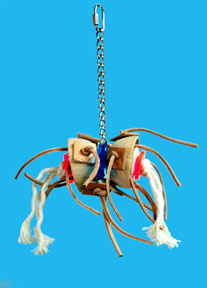 Simple & funny. This toy consist of 100% cotton rope, natural pieces of wood, various acrylic pieces, vegetable tanned leather parts & strips with movable acrylic pieces in the middle. Parrots love to tongue the acrylic pieces and get them to turn. Hangs from welded smooth chain (no S tie). There is no dye in this toy, all sisal, leather and wooden pieces are not dyed and the acrylic pieces can be recycled and reused time and time again!

As with all toys that have rope, sisal, fabric and curly laces, PLEASE be sure to
check the toy daily for frayed edges and keep it (and your parrot's nails) well trimmed.

Item #: 67045
Size: One Size (9" x 5")
Price: $10.75
Now: $8.60