Surprise Box Spikey Balls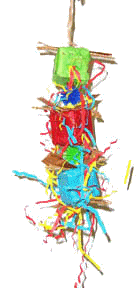 This is a fun, new toy to help encourage foraging behaviors from the makers of Polly Wanna Pinatas. There is a different surprise in each box ... plus you can open to fill with your FIDs (feathered kids) favorite treats like nuts, pasta, JUST fruit or JUST veggies, plus a couple of porcupine balls for added texture and beak pleasing fun! Great toy for those smaller to mid sized beaks in your house! Also check out the Surprise Box Swing!
Item #: 64024
Size: One Size (12" L x 4" W)
Price: $12.00

As with any toy, please watch to make certain your parrot does NOT actually consume NON edibles!