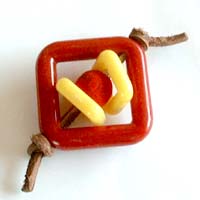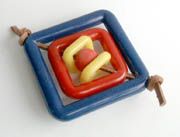 A great new addition to your FIDs foot toy collection, this starts with a hard plastic square, leather going through diagonally, and inside the square are more shapes with a ball in the center. Lots of motion, lots of texture and lots of beak teasing fun!
Item #: 63006

Size: One Size (4" x 3")

Price: SOLD OUT
Item #: 63007

Size: One Size (6" x 4")

Price: $2.75
NOTE: This toy is discontinued by the manufacturer so if it's one of your parrot's favorites, please stock up. When they're gone ... they're gone!