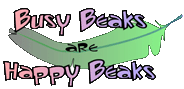 Buttons Ruffles & Bell

Buttons, Ruffles & Bell is a charming toy for the smaller to mid sized beaks in your house. There are three sections of two hole oval transparent buttons each hugged by petite ruffled beads for added interest, motion, color and texture. Topped with a nickel plated pear link on top for easy hanging, a 22mm colorful, aluminum bell on the bottom plus a couple more ruffled beads for beak pleasing fun.
Each section consists of a two hole oval transparent button

flanked by petite ruffled beads

for added texture and interest.
Item #: 32092
Size: 1 Size (6.25" L x 1")
Price: $5.75
Note: Each toy is individually handmade in the USA, colors, styles, beads and charms may vary from photograph.
As with all toys, please monitor your pets and make sure they don't actually consume non-edibles!
If your FID tends to be mechanical, please remove the clapper before giving to your avian family!