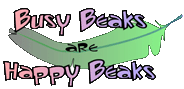 Surprise Box
For the smaller beaks that can't handle a 2" square boxes ... we're made this to hang so they aren't left out of the fun! Filled with shredded paper, reinforced with a triangle balsa piece inside and outside of the box, filled with shredded crinkle paper and a surprise inside. Strung with paper rope, and some fun squiggles for added texture. This is sure to be a delight for the smaller beaks in your life. Be sure to put a few of your own special goodies inside (who nuts, pellets, etc.) to encourage foraging!
Item #: 32086
Size: 1 Size (7" x 2" x 2")
Price: $4.75
Note: Each toy is individually handmade in the USA, colors, styles, beads and charms may vary from photograph.
As with all toys, please monitor your pets and make sure they don't actually consume non-edibles!